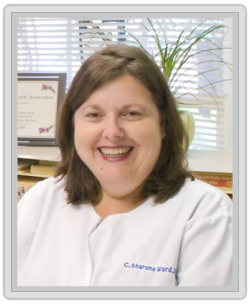 Education
B.S. Biology, University of Richmond, Richmond, VA
D.D.S. Medical College of Virginia / Virginia Commonwealth University School of Dentistry, Richmond, VA
General Practice Residency in General Dentistry Certificate, University of Maryland at Baltimore Medical Center
Awards
Presidents Award, Virginia Dental Association
Fellow, American College of Dentists
Fellow, Virginia Dental Association
Fellow, International College of Dentists
Voted as one of the "Top Dentists in Virginia" by Virginia Living magazine
Association
Elected to two, four year terms on the Board of Directors of the Virginia Dental Association
Past President, Southside Dental Society (of the Virginia Dental Association)
Past President, Metropolitan Academy of Dentistry
Member, Virginia Dental Association
Member, American Dental Association
Member, Chester Business Association
Member, St. John' Episcopal Church
C. Sharone Ward, D.D.S.

Dr. Ward is committed to providing excellence in dental care to her patients and community. Dr. Ward is known for her gentle, caring touch and for her reassuring manner. Having practiced in Chester since 1998 and through her active participation in numerous dental organizations, Dr. Ward maintains an extensive working relationship with a number of dental specialists to ensure the best possible consultations, collaborations, and referrals and consultations for our patients.
Dr. Ward is active in the American Dental Association, the Virginia Dental Association, the Southside Dental Society, the Chester Business Association, St. Johns Episcopal Church, Boy Scout Troop 819 where both her sons are Eagle Scouts. Dr. Ward lives with her husband and practice partner, Dr. Sam Galstan, and her their two sons who are in high school. She is pleased to have been active in the community for more than two decades. Please contact our office so that we can help you work towards excellence in oral health.