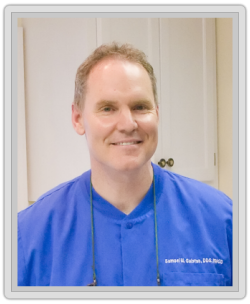 Education
B.A., Biology, University of Virginia, Charlottesville, VA
D.D.S., Medical College of Virginia / VCU School of Dentistry, Richmond, VA
Master of Public Health (M.P.H.) with dental emphasis, A.T. Still University, Kirksville, MO
General Practice Residency in General Dentistry, East Carolina University / Pitt County Memorial Hospital, Greenville, NC
A.D. Williams Research Fellowship, Medical College of Virginia / VCU School of Dentistry
Awards
Master, Academy of General Dentistry
Fellow, Academy of General Dentistry
Lifelong Learning and Service Recognition Award, Academy of General Dentistry
Fellow, Virginia Dental Association
President Elect, Virginia Dental Association
Fellow, American College of Dentists
Fellow, International College of Dentists
Delegate, American Dental Association
President's Award, Virginia Dental Association
Access to Dental Care Award, American Dental Association
Community Service Award, Virginia Dental Association
Orchid Award Recipient, Chester Community Association
Snead-Stebbins Business Person of the Year Award, Chester Business Association
Voted as one of the "Top Dentists in Virginia" by Virginia Living magazine
Associations
President-Elect of the Virginia Dental Association, a 3,500 member non-profit organization working to better the profession of dentistry
Delegate, American Dental Association
Past President, Rotary Club of Chester
Past President, Southside Dental Society
President and Secretary, Metropolitan Academy of Dentistry Dental Study Club
Member, Nottoway Dental Study Club
Past President, Chester Business Association
Former Chairman of Dental Health, Public Information Committee, Virginia Dental Association
Continuing Education Chairman, Southside Dental Society
Continuing Education Chairman, Metropolitan Academy of Dentistry
County Co-Chairman, Give Kids a Smile!" Access to Dental Care Initiative, Virginia Dental Association
Past Secretary, Virginia Dental Association's Political Access Committee
Former Vestry Member, Outreach Committee Chairman, St. John's Episcopal Church, Chester Virginia
Former Director (for 8 years) Southside Dental Society, Virginia Dental Association
Charter Organization Representative for St. John's Episcopal
Church and Boy Scout Troop 819 & Cub Pack 2819, Chester, VA
Committee Member, Boy Scout Troop 819
Implant Forum Dental Study Club
Samuel W. Galstan, D.D.S., M.P.H., M.A.G.D.
Master, Academy of General Dentistry

Dr. Galstan is committed to providing excellence in dental care to his patients and community. A graduate of the University of Virginia with an undergraduate degree in Biology and the Medical College of Virginia School of Dentistry with a D.D.S. degree, Dr. Galstan is one of only 1500 dentists in the entire United States to earn a Mastership in the Academy of General Dentistry, a nationally credentialed program requiring extensive hours of education and testing, and is one of only two dentists in the world to hold both a Master in the Academy of General Dentistry and a Master in Public Health.
To better serve his patients, after graduating from dental school Dr. Galstan completed a general practice residency program in General Dentistry at Pitt County Memorial Hospital in Greenville, North Carolina, where he learned advanced dental and patient care techniques, including cross-training with Family Practice Physicians and serving rotations through the Emergency Department and E.N.T. Department. Knowing that he wanted to be a dentist since early childhood, Dr. Galstan is committed to always learning more and to help other dentists learn more, and actively serves as the continuing education director of his dental society, the Southside Dental Society, and his dental study club, the Metropolitan Academy of Dentistry, both organizations of which he is a Past President. Dr. Galstan is involved in extensive community service where he continues to serve through the Rotary Club of Chester, the Chester Business Association and the Southside Dental Society, all of which he is also Past President.
One of the dental interests of Dr. Galstan is towards working to decrease disparities in health care and to decrease barriers to access to dental care. Dr. Galstan and his wife actively work to decrease barriers to access to dental care through internationally recognized Give Kids a Smile Access to Dental Care program (where they have been the co-state chairmen since the program's inception 10 years ago) and the Mission of Mercy program (where they work with organization and implementation). Dr. Galstan is currently completed a Masters in Public Health (with an emphasis in Dentistry) program so that he could provide better care to his patients and community. Dr. Galstan continues to take continuing dental education courses to stay current in all aspects of general dentistry. Having practiced in Chester since 1990, and through his active participation in numerous dental organizations, Dr. Galstan maintains an extensive working relationship with a number of dental specialists and colleagues to ensure the best possible consultations, collaborations and referrals for our patients.
Dr. Galstan is active in the American Dental Association (he received the Access to Care national award), the Virginia Dental Association (where he is a Fellow and received the President's Award and the Community Service Award), the Southside Dental Society (where he is a Director to the Board of Directors for the Virginia Dental Association), the Chester Business Association (where he received the Snead-Stebbins Business person of the year award), St. Johns Episcopal Church (where he is a former vestry member and on the Outreach Committee), the Chester Family Y.M.C.A. (where he is on the Board of Management), and Boy Scout Troop 819 where his sons are members ( Dr. Galstan is an Eagle Scout, and is the Charter Organization Representative and on the Troop Committee. Both of Dr. Galstan and Ward's sons are Eagle Scouts).
This is the first generation in the history of mankind that a person should expect to keep most of their teeth throughout their lifetime. Regular dental maintenance, as well as advanced techniques in dentistry allow patients a number of options for excellent oral health, and the caring staff in Drs. Galstan and Ward enjoy treating a wide range of patients from children, to families, and to seniors, and performing a variety of comprehensive care procedures from examinations, prophylaxis, restorative (white and silver fillings), whitening, crowns, bridges, complete and partial dentures, some extractions, periodontal therapy, children's dentistry and restoration of dental implants. Our office does their best to make our patient's experience the best that it can possibly be. Dr. Galstan recently completed the Implants Innovation Synergy training program, a program to teach restorative dentists advanced techniques in restoring dental implants. Dr. Galstan designed the office with his father-in-law, to make patients feel like they are at a home and not a dental office. All of the landscaping at the office has been designed and planted by Dr. Galstan, and the office grounds were recently the recipient of the Chester Community Association's Orchid Award for their beauty. Dr. Galstan emphasizes the importance of proper diet and exercise, as well as living a healthy, holistic and positive lifestyle.
The son of a Navy test pilot, Dr. Galstan was born in Japan and has lived in numerous locations across the country, including Northern Virginia, where he attended high school. Dr. Galstan finds the lifestyle and pace of living in Chester to be excellent, and is proud to call Chester home. Dr. Galstan practices with his wife, Dr. C. Sharone Ward, whom he met on the first day of dental school. Dr. Galstan and Dr. Ward have two sons who are in high school and who are both Eagle Scouts. When not involved in dentistry, Dr. Galstan enjoys gardening, fishing and spending time with his family. Drs. Galstan and Ward are pleased to be a part of the community, and to serve the dental needs of their patients since 1990. Please contact our office so that we can help you work towards excellence in oral health.